Auto Accident Chiropractic in Mountain Top
and Wilkes-Barre Neighborhoods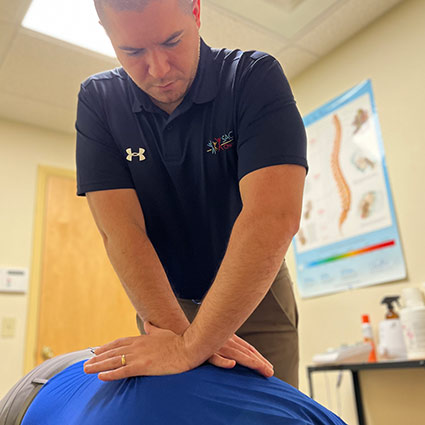 When someone has been in an accident, our team tells them if there's enough force to bend the metal on your car, there's enough force to transfer through your body and damage soft tissue. And it's going to aggravate any old injuries you already have! Your body may be thrown in any direction, causing injury to the back, neck and other areas.
The problem doesn't always come on right away. It could be a couple of days after you have the accident, or a couple of weeks. If it's a whiplash injury, it could set you back for years if not treated correctly.
But it's very important to get checked out right away and start your care. After the hospital checks for fractures and other serious injuries, your next stop should be our office. The sooner you start treatment, the faster the healing process can start!
NEW PATIENTS

Quality Care That Works
Some patients are unable to tolerate the normal adjustment position. We never want to use aggressive methods that may cause further pain or injury. Our doctors tailor your plan to make sure you're as comfortable as possible and able to handle the prescribed methods of care. Our goal is to reduce your pain, and relieve other symptoms like dizziness, sleeping problems, and headaches. We'll help you get your life back on track!
Ensuring Your Future
Untreated injuries, especially whiplash, make you more likely to develop arthritis at some point in the future. Even a collision at 5 mph can cause a whiplash injury. Damage to muscles, ligaments, nerves and vertebral discs can occur, resulting in headaches, dizziness, neck pain, concussion, and more.
Your care plan may include several modalities to give you the best results. Manual adjustment realigns your spinal vertebrae. Corrective exercises strengthen supporting muscles for better movement and prevent further injury. If further testing is necessary, we'll refer you out.
Every patient recovers on their own timeline. That's why your care plan is unique to your needs. We'll help you get back to what you love doing.
We're Here To Help
Once you file a medical claim after the accident, we'll take it from here. We take care of all the paperwork, deal with the insurance companies, and work with your attorneys, if necessary. We have the experience to provide any necessary documentation to ensure you receive everything you're entitled to. The only thing you should concern yourself with is getting better!
Get Checked Out Today!
If you've been in an auto accident, make an appointment to get checked out asap! Contact our office today!

Auto Accident Chiropractic Mountain Top, Wilkes-Barre, Kingston PA | (570) 261-7792