New Patients at Twisted Roots Chiropractic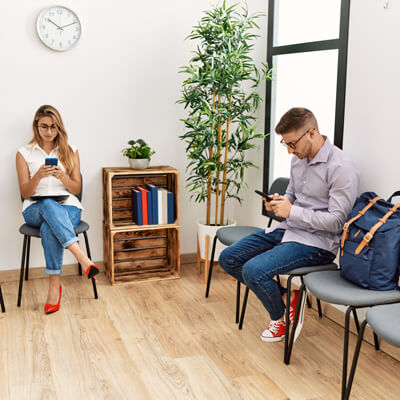 Welcome to our practice! Our friendly staff members will greet you, and take your ID and insurance card to verify your benefits, deductible, and make sure everything is active for you. If you haven't already completed the new patient forms, you'll be given them at this time.
Save time and complete your forms before your appointment. Please print and fill out the paperwork and bring it with you to your first visit.
Your First Visit
Your initial appointment with us takes about 40 minutes. We ask that you dress comfortably in leggings, workout gear, or shorts and a t-shirt, and avoid wearing skirts. Once the paperwork is complete, a staff member will take you on a tour of our office to show you where to check-in and check out, where to make your appointments, the payment area, and to meet our doctors.
Next, you'll be escorted to the new patient room, and your doctor will come in. You'll receive care from the same doctor for the first four visits, at a minimum. After that, the other chiropractor in our office may care for you, on occasion. Our doctors have the same level of certification and adjust the same way. They train together and pride themselves on providing you with consistent care, so each visit is perfect for every patient.
BOOK AN APPOINTMENT

What to Expect
Your doctor will do a thorough exam and assessment of your condition, getting to know you and what's going on in your body. We do a muscle EMG scan at this first visit to measure the tension in your muscle. Another scan is done, about halfway through your care plan, to compare the results and chart your progress. If X-rays or other tests are deemed necessary, you'll be referred out at this time.
After your testing is all done, your doctor will create a unique care plan to address your issues. You'll receive a diagnosis, what we plan to do to correct the problem, how long it will take, and how much it will cost. If you decide to continue with care, you'll receive your first adjustment today.
Financial Responsibility
We accept the following insurance:
We also accept major credit cards and cash payments. Please speak with a team member if you have any questions or concerns.
Book Today
Contact our team today to schedule your appointment. We look forward to meeting you soon!
CONTACT US

New Patients at Twisted Roots Chiropractic | (570) 261-7792