Chiropractic Care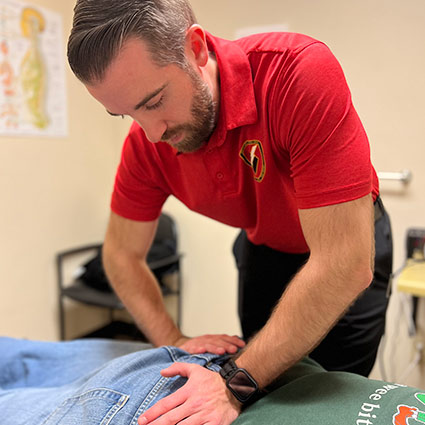 Chiropractic care relies on a science-based approach to relieve the areas of pain and tension within your back or spine. Releasing any nerve impingement or locked up muscles, and really calming the area down, and getting it to move again. Once we get your body to move in the way it should, it restores your body's ability to heal itself.
NEW PATIENTS

How Chiropractic Helps
Chiropractic is natural health care that focuses on treating your whole body by working with the nervous and musculoskeletal systems. The nervous system controls everything that happens in your body, so when the spine becomes misaligned, or nerves become irritated or interfered with, function in some area will be diminished.
Using adjustments and other modalities and therapies, your doctor goes beyond the symptoms to the root of the problem, and corrects it, relieving pain and restoring function.
Some conditions which may benefit from chiropractic care include:
Our doctors specialize in any type of headaches—tension, migraines, stress, etc. Dr. Sacco dealt with headaches for many years before finding relief with chiropractic care. He doesn't want anyone to suffer needlessly, like he did.
Tools and Techniques
At Twisted Roots Chiropractic we primarily use the Diversified technique for adjustments in our practice. It's the most widely used technique worldwide. We also do some Thompson Drop Table and flexion distraction techniques. All our adjusting is done manually, with some soft tissue work incorporated, such as massage and stretching. We may also use electrical stimulation and hot packs, as needed.
Everything we do is cutting-edge pain relief. Our team is up-to-date with all the latest technologies, therapies and treatments to provide our patients with the highest quality care.
Care for Patients with Cerebral Palsy
Dr. Sacco is passionate about helping individuals with cerebral palsy. Having grown up with a brother who has dealt with this condition his entire life, really shaped how Dr. Sacco thinks about helping people today. Individuals with cerebral palsy constantly deal with spastic muscles, and gentle chiropractic adjustment helps calm muscle spasms for a period of time. Because joint problems are also common, we tailor care to help reduce pain and slow the development of arthritis.
Schedule An Appointment Today
We would love to help you get pain relief and achieve your health goals. Call us today to schedule an appointment.
CONTACT US

Chiropractic Care | (570) 261-7792