Work Injuries in Mountain Top
and Wilkes-Barre Neighborhoods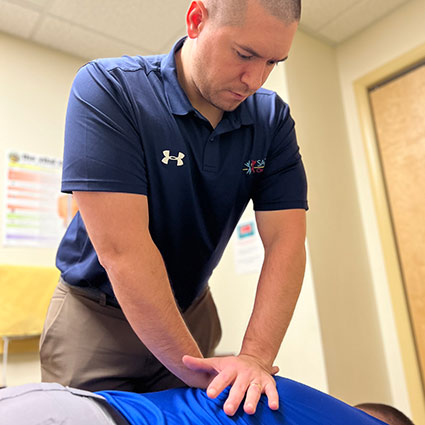 If you're injured on the job, whether it's a fall, an accident, or even repetitive motion injuries, workers' compensation provides medical care without having to pay out of pocket.
Studies have shown chiropractic care after a work-related injury significantly reduces recovery time, decreases the need for hospital admissions, and is more cost-efficient than traditional medical care.
There are two main goals following a work-related injury, managing the pain and getting the individual back to work as soon and as safely as possible. Chiropractic care may play an essential role in reaching these goals.
We get employees back to work in half the time! Our team works with you to relieve your pain and get you back in action. We coordinate your recovery, take care of all the paperwork, and bill directly.
NEW PATIENTS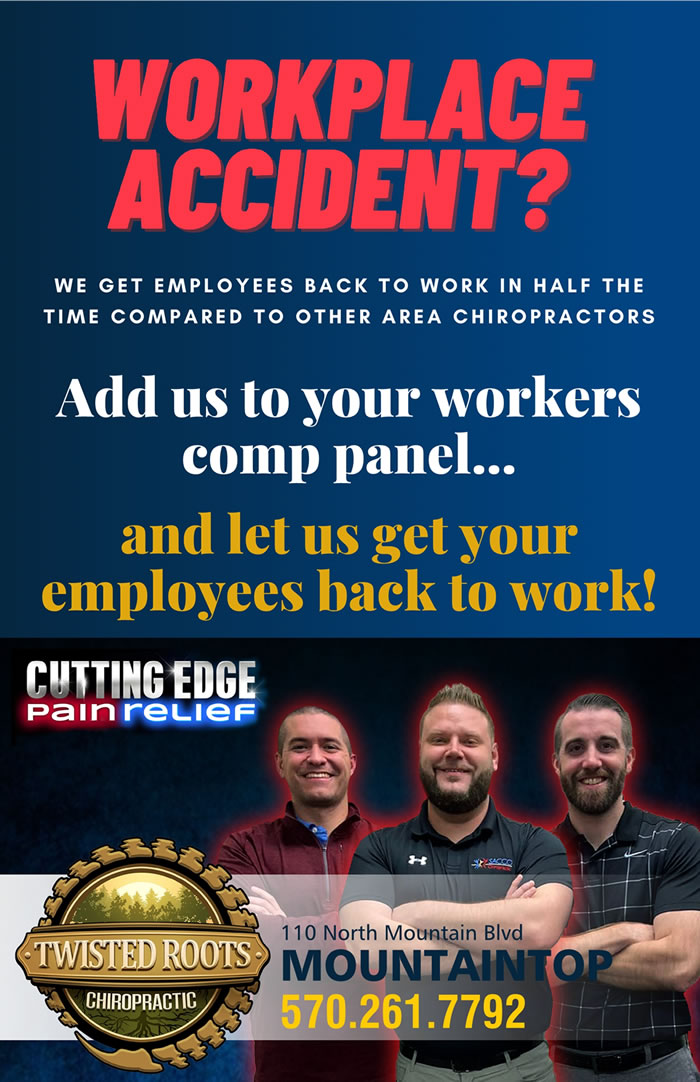 Going Through The Process
Injuries may occur in any work environment and cause stretching and tearing of muscles and ligaments, resulting in pain and discomfort. In some cases, these injuries may also lead to chronic problems such as back pain or herniated discs.
If you have suffered a work-related injury that has caused stretching and tearing of your muscles and ligaments, it is important to seek medical attention as soon as possible. Our experienced chiropractors provide you with the treatment needed to recover from your injuries and avoid future problems.
Our goal is to get the musculoskeletal system realigned, joints functioning again, decompressing nerves, and helping muscles to heal faster with less discomfort. Whether the problem results from lifting, trips and falls, equipment incidents, or even ergonomic issues from prolonged sitting, when someone gets injured at work, our goal is to get them feeling better, so they can return to work asap. We provide the medical coverage and support needed to help people get back to work after a work-related injury or illness.
Some areas we have been successful with:
Sprains/strains
Soft-tissue injuries
Sciatica
Back & Neck pain
Shoulder pain
Knee pain
Headaches
Disc issues

Repetitive motion injuries
Helping You Heal
Repetitive stress injuries, small tasks done using poor posture, often create big problems over time. It's not the big package that falls on you that causes the problem, it's the small ones handled more often each day.
Chiropractors have high success rates in helping people with work injuries. When the spine and joints become misaligned, they may swell, irritating the surrounding nerves, causing injuries, and leading to multiple problems.
The sooner you receive proper care after a work injury, the easier it is to make a quick recovery. Chiropractic doctors assess your condition and help you understand what you need to do to recover. If you need to be referred out for additional services, we're happy to help.
Book Your Appointment Today
We're here to help restore your health, so you can get back in action as soon as possible. Contact Twisted Roots Chiropractic to get started.
CONTACT US

Work Injuries Mountain Top, Wilkes-Barre, Kingston PA | (570) 261-7792